Join Celebrity Trainer Drew Mannings' 30-Day Keto Challenge That Has Helped Over 200,000 People (& still counting) Achieve Their Health & Fitness Goals!
Join Celebrity Trainer Drew Mannings' 60-Day Keto Challenge That Has
Helped Over 200,000 People
(
& still counting
) Achieve Their Health & Fitness Goals!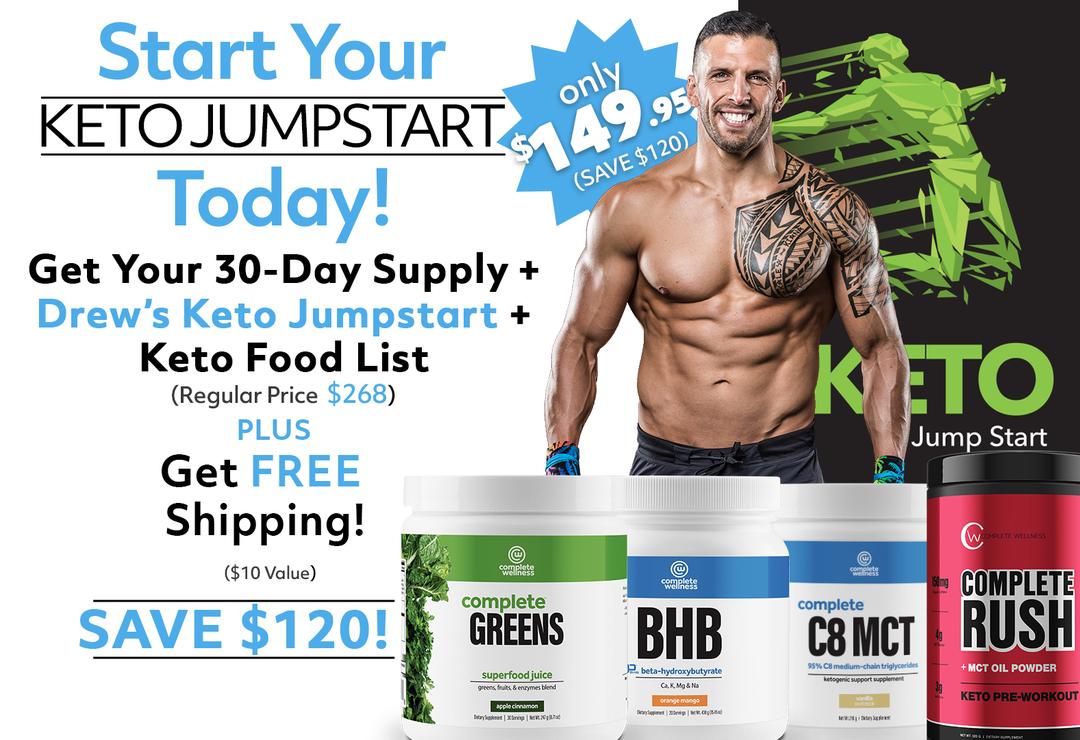 30-Day Keto Jumpstart Challenge w/ Drew Manning Bundle
This Bundle includes the following:

One 30-Serving Bottle of BHBs
One 30-Serving Bottle of MCTs
One 30-Serving Bottle of Complete Rush Pre-Workout
One 30-Serving Bottle of Greens
60-Day Keto Jumpstart Meal Plan

(

$97 Value

)

60-Day Keto Challenge Workouts

(

$499 Value

)

Keto Food List

(

$37 Value

)
100% Money Back Guarantee!
Drew Has Been Featured On...
COMPLETE BHB


Get into ketosis faster, burn more fat and accelerate your performance with BHBs. This keto blend of beta-hydroxybutyrate (BHB)
features 11.7 grams
compared to the average BHB on the market which only has 6 grams, ensuring your getting the full benefit of BHBs. These will help you
increase ketone levels, athletic performance, mental clarity and consistent energy.
COMPLETE MCTS -
made with 95% C8 MCT Oil
The perfect compliment to Ketogenic, low-carb, & other healthy lifestyles
MCT's, or medium-chain triglycerides,
 are a form of saturated fatty acids that are abundantly found in coconut oil and have a long list of benefits ranging from fat loss, heart health, to neurological performance.
So why not just consume more coconuts?
Research(1) shows that MCT is a more concentrated source which is important for certain uses, including:
appetite control & weight loss
Improved cognition, focus, & mental energy
Improved athletic performance
Reduction in diseases such as diabetes, cancer, cardiovascular disease, epilepsy, & more.
Our MCT Oil Powder is made with 95% C8 MCT.
 C8 MCT, or Caprylic Acid is quickly absorbed and converted into a clean energy source within 30 minutes.
The liver breaks down C8 quickly into Ketones, which are utilized almost immediately by your body, and is your brains preferred source of fuel.
Quality matters:
 Our MCT Oil Powder contains no added fillers or unnecessary ingredients. With each scoop you can rest assured that you are getting the highest quality MCT Oil Powder on the market. 5,400 mg of C8 MCT and that's it!
Complete Greens -
Greens, Fruits, & Enzymes Blend  
Complete Greens is a powerful blend of ingredients formulated with low-carb & Ketogenic dieters in mind.
With a unique blend of 16 organic fruits & vegetables, & digestive enzymes, Complete Greens helps you get in all of your daily micronutrient needs without spiking your blood sugar.
We like to think of Complete Greens as insurance for your body
, it's peace of mind, knowing that you are protected & fortified from the inside out.
Your health is important but it's not something you should stress about every minute of your life. So, with each serving, mix, drink, and then forget about it. By combining our Greens with proper dieting and exercising you can rest assured that your body is being well taken care of.
Aside from the health benefits,
adding Complete Greens to your everyday can save you hundred of dollars in pills, powders, & trips to the grocery store
with each & every delicious scoop.
Complete Rush Pre-Workout
The Number ONE Fuel Source For Keto & Low-Carb Diets WITHOUT The Crash!
Ketones. Performance. Focus. Endurance. Strength. Recovery. 
Complete Rush gives your brain & body the BOOST they need to fuel your workouts & get through each day with plenty of natural energy!
This all-in-one pre-workout combines a unique blend of ingredients designed to:
Help you burn fat
Boost ketone levels
Suppress cravings
Accelerate both mental & physical performance
Increase focus during & post training
Reduce inflammation
Speed up recovery time
Nourish your body with essential vitamins & minerals
Drew Manning's 60-Day Keto Jumpstart Challenge
The 60 Day Keto Jumpstart Program Is For You If You...
Want to lose the weight fast (not just a little weight).
And make that permanent weight loss transformation you've been looking for!
Want to follow a program that is easy to follow & stick to.
Are a beginner to Keto
Could benefit from more energy than you'll know what to do with.
Prefer small, easy workouts rather than long bouts of cardio.
Love to eat... especially fatty foods!
Keto Jumpstart Meal Plan ($96 Value)


An easy-to-follow, full 8-week meal plan including meals for breakfast, lunch, dinner, and treats! Tells you exactly what to eat and when to eat it!
Includes 8-weeks of grocery lists with portion sizes adjusted for both men and women. All you have to do is go to the grocery store!
Includes over 35 Keto recipes with portion sizes adjusted for both men and women
Includes a full list of all the types of foods and beverages you should eat and which you should avoid to stay Keto!
Detailed answers to common Keto questions including: what your macros should be, how to test your ketone levels, signs that you're in ketosis, how to stay keto on the go, keto-friendly alcohol options, and MORE!
UPGRADE TO THE
60-Day Supply + Keto Jumpstart Program
MOST POPULAR
30-Day Supply + Keto Jumpstart Program
GET STARTED
Complete BHB's + Drew's 60 Day Keto Jumpstart
Save 40%!
The 60-Day No-Risk Guarantee!


Order right now with confidence - Try Complete Wellness out for 60 days and if it doesn't work for you, you'll get your money back! There's absolutely no-risk in giving it a try. No questions asked, you can get your money back!
Drew - from the bottom of my heart, THANK YOU ! About 8 or 9 months ago, can't remember exactly when, I signed up for your program. I started doing Keto but I was very inconsistent. I kept "falling off the wagon" so to speak. But I would see Drew's posts and gets his emails and it would always remind me to keep going. So for months and months I stopped and started and stopped and started. Can anyone relate? And then something clicked. And I stuck to it. I mean I really stuck to it. I messed up occasionally still, but I kept going. I'm proud to say that I'm officially down 60 pounds. And I by NO MEANS and stopping now. Drew - I hope you know how many people's lives you impact my friend. Because of you not only has MY life dramatically changed but I have literally hundreds of friends asking me how they can do this. They want to change their life and get healthy. It's amazing. I love how God blesses us to be a blessing to others. It's a ripple effect, and I don't think that we sometimes see how profound that ripple effect is. So Drew - thank you so much. I'm just getting warmed up ;)
Sean -
Results may vary from person to person.
My name is Jen Beall and I am 34 years old and I have an autoimmune disorder (sjogren's syndrome).  I've been on Keto for about a year now and it has changed my life tremendously especially having a disorder.  I don't feel sick anymore and have way more energy than before.  So far I have lost 50 lbs being on Keto and working out 4-5 days a week.  It really has changed my life!
Jen -
Results may vary from person to person.
As a International Executive Chef and someone who really enjoys fitness! I really was not sure what to epect when signing up for Drew Mannings Fit2Fat2Fit Program, however im 60 days in now and feeling and looking great. What an amazing turn around for me in such a short time and all is thanks to this simple to use 60 day challenge."
Billy -
Results may vary from person to person.